5 Days in Paris - Days 3, 4 & 5
Day 3 - Saturday
It was Saturday and we were exhausted from the go-go-go of the last two weeks. We also knew that the "Yellow Vest Protests" were on.
The protests had been going since November of last year, and many of the stations around the city were closed - which made it hard to get around. Most of the places we wanted to go, like the Eiffel Tower and the Musee D'Orcay were also places that the government was warning tourists from going to.
We toyed around with the idea of what we could do and where we could go, but ultimately decided that the best thing to do would be to use the day to rest and recover fully so that we could make the most of our last few days in Paris as well as the coming weeks in the Netherlands.
That didn't stop us from eating well. For the third day in a row, we headed to the bakery for a baguette. It was the same staff as the past few days, and they had a bit of a smile when they saw us, so I think they were enjoying seeing us again as much as we were enjoying the food.
This time, we had a baguette montmartroise, which was a whole grain baguette with seed and a flour coating on the outside. I think this was my favourite of the three where as Ash enjoyed the traditional baguette from yesterday the most.
For dessert, we got a citrus tart to share. We'd started feeling a little guilty (and heavy) from eating so much bread, so we decided having one each would be too much. As with everything we'd had from the bakery so far - the citrus tart was delicious!
Day 4 – Sunday
It was the last day of our museum pass, and having not visited any museums yesterday we were determined to make the most of it today.
Our first stop was Notre Dame and the building is just as grand as it looks in the movies (and in the cartoons). We arrived shortly before 10am and being Sunday, Mass was about to start. We made our way into the main building just as the chanting and organ music started to play. I had a small laugh to myself when I heard the music, because the first thing that came to mind was the 'stonecutters' from the Simpsons. I'm sure if I was more religious, that probably wouldn't have been my first thought, but it was still fantastic to watch.
We'd made a reservation to climb the 422 steps to the top of Notre Dame and look out over the city once more… but we were having a bit of trouble finding where to go for that. We circled inside of the building twice and could not see stairs or an entrance to the tower. Our reservation was at 10am and it was already 10:15 so we were starting to worry we may have missed it. After not being able to find any helpful information on Google, we asked one of the shop attendants where we should be, to which she replied "outside, on the right….".
Feeling somewhat like a bunch of idiots, we went outside and immediately saw the entrance and the line to get in. We showed our tickets and the attendant didn't seem to care at all that we were 20 minutes late - lucky for us!
The stairs were split up over several levels, and we climbed first to the gift shop, next to the viewing level and then finally to the top. The cloudy day made the gargoyles and stone work seem a little extra gothic and creepy, but the views were fantastic.
[Update 17 April 2019] Like people from all around the world, we're in shock at the news of the fire at Notre Dame on April 15. Having only climbed the towers a couple of few days prior, it's somewhat staggering to know that the spire, the roof and much of what we saw has been destroyed by the fire. While that is quite devastating, its comforting to know that there was quite a lot was able to be saved and that through the rebuilding effort Notre Dame will continue to bring people together as it has for hundreds of years.
Here are a few more shots we took from the top of Notre Notre Dame before the fire:
Our next destination was Sainte-Chapelle, one of the smaller churches and historical locations in Paris. We had read that if we had the chance we should definitely go and visit. The entrance fee was covered by the Museum pass too, so we thought why not!
Sainte-Chapelle is known for it's stained glass windows, and rightly so. The tall walls of the chapel are adorned with over 1300 intricate, individual stained glass depictions of biblical stories. When you walk in, the scale, beauty and colours in the glass took our breath away (Ash actually gasped when we saw the windows). Staring at the wall windows intently, it wasn't until I spun around that I saw the large circular window above the entrance to the chapel and which made me pause once more. Though small in comparison to some of the other buildings we've been in recently, we spent a considerable amount of time there and would strongly recommend anyone in Paris to see its magnificence in person.
Just around the corner is The Concierge, another inclusion in the Museum pass. The Concierge has an interesting back story, it was a palace that was turned into a prison during the French revolution and it's where Marie Antoinette was held before being executed.
Having gone through the Palace to Prison conversion, the building is not as luxurious as your typical palace - though it definitely would be compared to your typical prison. This ended up being one of the most interesting stops on our trip though because it gave us an opportunity to really understand the history behind the French revolution and how it shaped the nation. There were interactive videos that covered about 200 years of French history from 1766 onwards, as well as a copy (in English) of the French constitution which still remains a core part of modern French society. This additional knowledge put new context around many of the sights we'd already seen, why they changed, why the civil war took place and how that paved the way for France today. If we were to re-do the trip, I think I would suggest going to The Concierge first.
After a busy morning we went on the hunt for some food and shortly found a biscuit shop called La Cure Gourmande where we gathered a few things for later in the day.
We then crossed over the Seine river and into the city towards L'as Du Fallafel in Le Marais, which we'd heard had mind blowing fallafels.
We arrived at L'as Du Fallafel without any more distractions and could immediately see how popular it was. There are actually two L'as Du Falafel stores less than 100m away from each other, and both with equally large lines. And though the lines were long, they moved fast. Within about 15 minutes I had my "Falafel Special" and couldn't have been happier. It lived up to the hype and was an amazing meal for only 6 Euros. It's probably the best fallafel I've ever had. So good that I debated coming back the next day…
Our last stop for the day was the Picaso Museum. The building was originally a hotel, and was converted to a gallery specifically for Picaso's works, which the French government acquired thousands of - ranging from small sketches to large sculptures, and everything between.
Ash and I kept losing each other in the building, which we found pretty funny. There are lots of stairs and corners, and it's easy to get caught up looking at a painting and losing track of everyone else in the room. In total we lost each other four times.
There is lots to see and learn at the Picaso Museum, partly because Pablo Picaso lived to 92 years old (1881 - 1973), and it doesn't seem like his creative mind was ever at rest. Throughout the gallery there are works from various periods in his life, when he was experimenting with both form and medium. As one of the pioneers in the cubist Impressionism movement, his paintings around the 30s to 50s were particularly interesting. We snapped a few of our favourites here: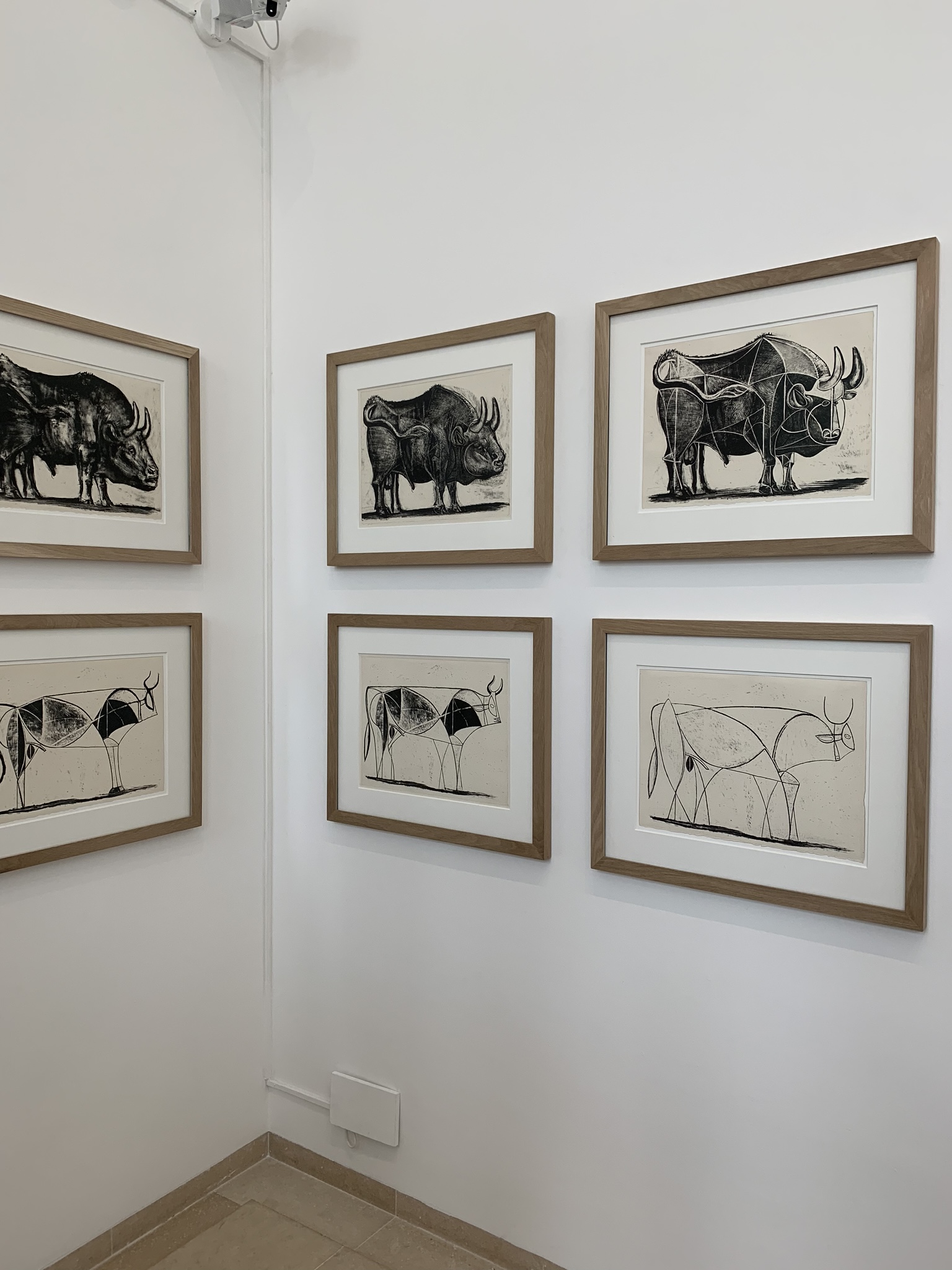 After the Picaso Museum, we headed back to Montmartre for yet another cliché French experience - crêpes from a cute little street cafe. We went to La Galette du Moulin which was less than a block away from our AirBnB, and we'd seen lots of people at it over the last few days. The menu looked divine too. I had a melted salt and caramel fudge crêpe, and Ash had a classic lemon and sugar one. We were both pretty excited about it, and they were great.
Day 5 - Monday
For our last day in Paris, there was still lots to do but we were able to keep it fairly local. Montmartre is a both a popular and historic destination, and while we'd been exploring much of Paris we really hadn't ventured beyond the bakery yet in Montmartre.
As you look up from the streets where the bakery is, you start to see a steep hill with a huge church atop it. That's Basilique du Sacré Cœur de Montmartre, and being positioned at the highest point in Paris it commands a lot of attention from tourists and locals alike.
Crossing another "must eat" item off the list, we grabbed some croissants from our bakery at the foot of the hill and made our up to the Basilique. The views out across the city were fantastic, and made that little bit better by being able to enjoy them with a croissant in hand.
We didn't go inside the Basilique - our museum pass was only four days, so we'd run out. But also, after the last few weeks I think we had experienced all the churches we need to for a while. Instead, we made our way past the Basilique and into the back streets of Montmartre, where we got some great views of the other side of Paris.
There were also a couple of little hidden away places that we'd heard about as well. First was Vignes du Clos Montmartre - the only vineyard still located within Paris, and the first vineyard I've seen in a city! It was small but super cute, so we took a few pictures through the wire fence. We were also eavesdropping on a walking tour that was happening next to us, and overheard the guide say that like many vineyards, Vignes du Clos Montmartre is under significant risk from climate change. If the temperature changes even a couple of degrees the grapes will become much drier and the flavours will be gone. That made me sad, even without having tasted the wine. And I'm sure it would be even harder for little vineyards to find somewhere new to grow the grapes if we can't fix our climate issues.
Of course, no visit to Paris (especially our first) could be complete without seeing the Eiffel Tower. So we walked back through Monmartre to Pigalle Station and caught the train to Invalides where the Eiffel Tower resides.
I had a bit of déjà vu when we arrived because, just like the Arc de Triomphe, was much bigger than I was expecting. It stands 324m / 1063ft tall and overshadows everything around it. The Tower also has an lightly aged rust to it, which adds a bit of charm and character.
We walked back along the river and into the city for our last culinary exploration of the trip. Our first and briefest culinary stop in Paris happened at Le Macaron Ladurée on Rue de Castiglione, near Jardin des Tuileries. We weren't planning to visit, but were walking past and were immediately sucked in by the shiny displays and colourful variety of Macarons - so we quickly bought a gingerbread macaron, and a yuzu one as well.
Without any further distractions, we set out for Galleries Lafayette Gourmet Food Hall, which we'd been recommended by friends. Galleries Lafayette is a high end department store that has several buildings in Paris. The gourmet building has lots of stalls with bakers, spice traders, cheese mongers, wine stores and fresh fruit.
The produce at Galleries Lafayette was the best we'd seen in Paris and if we'd had a full kitchen in our accommodation I would have loved to have bought a bunch to cook. Without the kitchen though, we sought out some instant eats. From the wide variety of stalls and lot of great looking produce, we bought some eclairs from L'Eclair de Genie and a delicious nougat brioche, which we took back to the apartment to have with a last glass of Rosé.
With our bellies full of delicious sweets, it was time to pack our bags once more and ready ourselves for the onward journey. Next stop, Rotterdam, Netherlands!
Read Days 1 & 2 of our trip to Paris, including: the Arc de Triumphe, The Louvre, La Jourmande, Jardin des Tuileries, Palace of Versailles, Monmartre, cheese and baguettes!